Quilted bamboo sleep bag - Cars (2.5 togs)
$48.00 $60.00
Features
safe and exclusive Canadian design without snaps
ideal for an undisrupted sleep
keeps baby warm all night
opens fully from bottom to easily change diaper
well adjusted neck hole
protected chin
lots of room for baby's feet
What people think
Avis des clients
Écrire un Avis
Poser une question
12/22/2021
Julie A.

Canada
Julie
Je suis tellement satisfaite de mon achat. Mon bébé l'adore et passe de super nuit. Je la recommande et j'achèterais à nouveau cet dormeuse. Le confort et la qualité ! Ça vaut la peine de payer un peu plus cher pour un produit durable.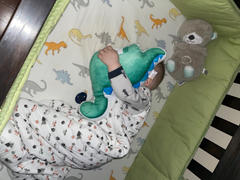 Merci énormément Julie pour ces mots Votre fidélité vaux tout l'or du monde pour notre équipe, en vous souhaitant plein de magnifiques moments avec votre tout petit
12/22/2021
Cassandra C.

Canada
Amazing Product
We were given a sleep sac second hand from a friend. I am SOOOO GLAD that happened. The moment we started using it we have not looked at any other brand. The fabric is amazing and the quality is spot on. My son LOVES his sleep sacs. The price is also on par with the quality of the product. I'll definitely be a returning customer.
Wow thank you so much Cassandra, you're one of many reason we work so hard for our customers
12/20/2021
Charlotte M.

Canada
Dormeuse de rêve
Très douce et moelleuse! Perlimpinpin font les meilleures dormeuses!
On travaille fort pour se démarquer continuellement dans le domaine, merci beaucoup Charlotte ❣️
12/20/2021
Lindsay S.

Canada
Best sleep sacks ever!
From ordering to shipping to baby sleeping everything was great! Super soft and warm! Merci Beaucoup!
Thank you Lindsay, a pleasure to work for you
12/17/2021
Elise G.

Canada
Plein de douceur
Elles sont si douces ces dormeuses en bambou, parfaites pour bébé.
12/14/2021
Joan M.

Canada
Quilted bamboo sleep bag
It washes well and dries quickly when hung. Delivery, ordering and communication was great. Thanks
Thanks for the great words Joan
12/08/2021
Lydia M.

Canada
Love it!
Great quality sleep sack. Soft, warm and cute gender neutral pattern
We love to hear it ! Thanks Lydia
12/04/2021
Suzie M.

Canada
Housse 2.5 togs
Nous adorons la housse
Bien content que vous aimiez, merci Suzie
12/03/2021
Beata W.

Canada
Quilted sleep bag
My grandson loves it. It's so soft, comfy and worm.
11/30/2021
Denise S.

Canada
Always a pleasant experience
It had always been a pleasant experience shopping Perlimpinpin. Excellent products and fast shipping.
Thank you Denise, we're like Ninjas for deliveries
11/30/2021
Suzanne B.

Canada
Très confortable et bébé aime beaucoup
11/25/2021
Ariane P.

United States
J'adore, dormir en paix sachant bébé au chaud
TOG parfait pour l'hiver, matériel de qualité, taille et couleur demeurent après les lavages, tissu doux ;)
11/19/2021
Lisa S.

Canada
Excellent!!!
Your brand is now the only brand of sleep sack both my daughters will use. The quality is excellent and importantly they do not shrink when washed. We will continue to order as the children grow.
Thank you so much for your trust Lisa
11/19/2021
Danelle P.

Canada
Bamboo sleep sack
My daughter loves her sleep sack, such good quality
Thank you so much Danelle
11/07/2021
Jessica G.

Canada
Amazing!
I'm a sleep consultant and recommend this brand of sleep bag to my clients and parent friends! Quality is amazing! You will fall in love with the fabric the minute you open the package! Love how the sleep bag is fitted and that this one in particular is food for all seasons! Your little one will sleep comfortably in this every night :)
Thank you for the great words Jessica, it means so much to us ❣️
10/27/2021
Cathy C.

Canada
Beau et de qualité
Je n'ai que de bons mots pour ce sleep bag. Le matériel est beau et doux! Merci beaucoup et je recommande sans hésiter!
Merci pour vos beaux mots Cathy ❣️